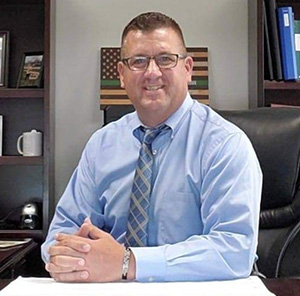 Mike Simpson's roots run deep in Oldham County. He was born and raised in Oldham County. He began his law enforcement career in 1986 at the Oldham County Jail as the Chief Deputy. He was elected to position of Jailer in 1993, and is currently Kentucky's longest serving Jailer. He has held various positions on the board of The Kentucky Jailers Association. In the past he has served as Vice President, and President. He is currently serving as Vice President.
Mike is very involved in the community. He can be found coaching little league baseball. He is also a member of the Oldham County Chamber of Commerce, La grange Rotary, and a past board member of The Oldham County Red Cross.

Thanks to Jailer Simpson's tireless efforts, the Oldham County Jail was able to move to a brand-new state of the are facility. The Oldham County Detention Center was open January 2018.